RECENT UPDATES!
CATALOGS

EDUCATION

WEB RESOURCES

SUPPORT
In Association with: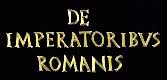 Welcome to the NEW version of the Virtual Catalog of Roman Coins, a Web site devoted to helping students and teachers learn more about ancient Roman coins. These pages contain images and descriptions of coins from the Early Republic through the end of the 4th century A.D. and the formal division of the Roman Empire into east and west. The Catalog provides only a sample of the thousands of Roman coin types, but it is constantly growing so please check back from time to time to view the new material.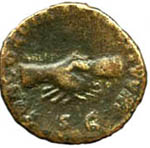 The site is arranged to provide easy access to coins from a particular period or to let users browse the coins however they choose. Users may also search for a particular feature on the coins, a goddess or god, an emblem, or part of an inscription. Use the Main Catalog and Search links on the left.
The VCRC is an innovative project based on the collaboration of private coin collectors and dealers and a college professor who wants to create a useful resource for his students, other teachers and their students, and the general public. The images and initial descriptions are provided by collectors and professional numismatists, allowing us to present a more extensive database of coins that would otherwise be possible. Photo and coin quality depend on what is provided; descriptions are edited to achieve a degree of consistency. Coins are usually the main Roman issues with Latin legends, but a few provincial coins are included at this time. The coin types represented depend on the material available. All photographs in the catalog are attributed to the persons who granted permission to use them. We are grateful for their willingness to share their materials with those who wish to learn about Roman coins. We also invite others to participate with us in this project. All contributors are listed on the Thanks and Credits page.
The entries and web materials are edited by Robert W. Cape, Jr., Associate Professor of Classics, Austin College. Special thanks go to Julie Bergfeld and Molly Simpson who were crucial to the transformation of the project from static pages to dynamic database. Thanks are also due to the Cullen Fund for Teaching, which has supported the project.